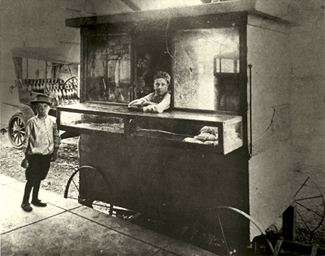 W.D. Wilkins' first business venture
Welcome to W.D. Wilkins Furniture. We're glad you're here, and we hope you'll visit our showroom at 3111 50th Street in Lubbock, Texas. Our 30,000 square-foot store is home to discount prices and solid customer service for the South Plains of Texas and Eastern New Mexico.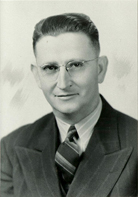 Our Founder
Founded in 1932 by the late entrepreneur W.D. Wilkins (1901-1987), our family furniture store has been locally owned and operated for four generations.
W.D. Wilkins started his Lubbock business in the loft of a blacksmith's shop located at 2209 Avenue H.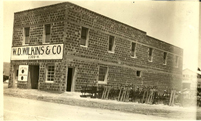 First location in Lubbock, Texas
at 2209 Avenue H, where
Wilkins sold cotton seed,
go-devil knives, and furniture.
Early Operations
He realized that he must sell his items quickly and economically before the soot from the shop sullied the furniture.
Wilkins' business expanded rapidly. He contracted a builder to construct a larger location at 2204 Avenue G and decided to put most of the profits back into the business by replenishing inventory.
In the 1950s, the furniture business flourished as the post-WWII generation settled and furnished homes. During this time, Lubbock grew, Texas Tech expanded, farming was profitable, and the oil and gas industry boomed.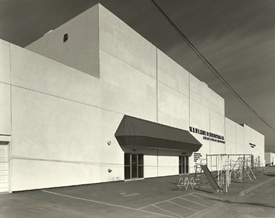 W.D. Wilkins Distributing Company,
2204 Avenue G
The Family Business Continues
In 1961, W.D. Wilkins' son, T.O. Wilkins, and his son-in-law, Bill Warren, bought the business and formed W.D. Wilkins Wholesale Furniture Company.
T.O. and Bill based the business in the Avenue G location before dividing it in 1968. T.O. Wilkins owned the jewelry and gifts division, while Bill Warren and his wife, Sarah Jane Wilkins Warren, owned the furniture division.
The Warren's two older sons joined the furniture business in 1974 and 1975, respectively, and the youngest son entered the business in 1984.
After a fire destroyed the property on Avenue G, W.D. Wilkins Furniture relocated in 1986 to our current location at 3111 50th Street, formerly the JCPenney building in Monterey Center.
Our store's exterior, porous beige bricks accented by brightly colored glazed bricks, is indicative of the look of shopping centers dating back to the early 1960s.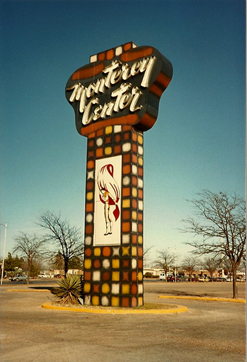 Former Monterey Center
entry sign for W.D. Wilkins Furniture and
Appliances, now W.D. Wilkins Furniture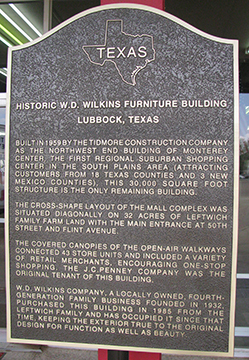 Our current building's historical marker, noting our location at the first regional suburban shopping center in the South Plains
Still Going Strong After 91 Years
Having completed our 91st year in business, W.D. Wilkins Furniture is the only surviving building of the historic Monterey Center, formerly a major regional shopping center in Lubbock.
W.D. Wilkins often said he would rather sell more items at a nickel profit than sell fewer items at a quarter profit.
His mission was to provide quality-built, affordable furniture to as many customers as possible, a credo our family still strives to reflect.